Sword of the Stars II is the full, stand-alone follow-up to the hit 4X franchise, Sword of the Stars. SotS II will feature the six races from SotS I and its expansions, as well as revealing the dark, running secret of the original series, the Suul'ka – an ancient race that is responsible for tampering with the Liir, Zuul, and other races in the SotS universe! Sword of the Stars II: Lords of Winter will be a major step forward in 4X gameplay, taking the easy-to-learn-but-hard-to-master. The game was developed by Kerberos Productions, which was formed by a group of former Barking Dog Studios employees who had earlier worked on the game Homeworld: Cataclysm, an expansion to Relic Entertainment's space real-time strategy game Homeworld.
Features
* Lead one of six playable factions, including a completely new one, as you strive for galactic dominance.
* Unravel highly detailed star systems featuring planetary orbits, moons, asteroid belts, and different space terrain.
* Experience the new graphics engine.
* Choose between entirely new vessels, or build your own with new levels of ship detail, including specific sub-systems, allowing for new fleet strategies and tactics.
* Explore an advanced technology system as the game begins in the Fusion era and moves beyond the Anti-matter era.
* Randomizing options in technology removes the unavoidable "optimal path" making the game more replayable
* Command your empire by exploring new solar systems, improving diplomatic relations or destroying a race
* Engage in fierce multiplayer battles with up to 8 players.
Screenshoot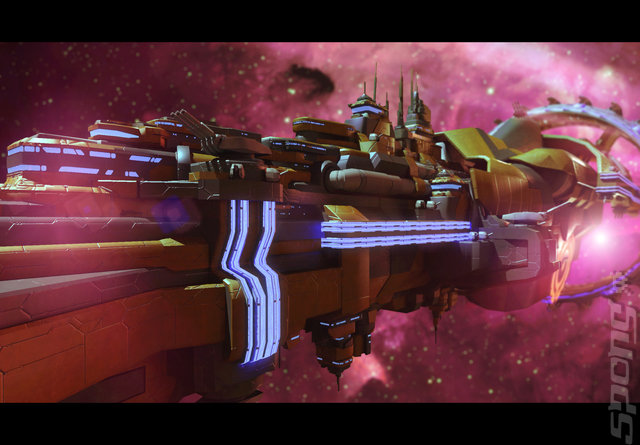 Minimum requirements:

OS: Windows Vista 32-bit
RAM: 2-GB RAM
Video: 512-MB DirectX 10
Display: 1024x768
HDD: 2-GB free space
CPU: Core2 Duo or equivalent
DX: February 2010 or newer (DX10)
Sound: Any Windows Vista compatible sound device, stereo speakers or head phones
Control: 2-button mouse and keyboard

Recommended:

OS: Windows 7 64-bit
RAM: 6-GB
Video: 1-GB DirectX 10/11
Display: 1650x1080 or greater
CPU: Intel i5 equivalent or better
Sound: Any Windows Vista compatible sound device, 5.1 speaker configuration for full effect
Control: 3-button mouse and keyboard